Depression During After Pregnancy
Pregnancy is a mixed feeling. It is a feeling of joy mixed with worry, anxiety and a little blues. It is hard to believe but, about 13 percent of pregnant women suffer from depression during and after pregnancy. Let's take a closer look at this health issue.
Depression
Depression is a serious mental illness. It is not just feeling blue for some days, depression has more to it. In depression, the feeling of grief, anxiety and sadness do not go away after troubling the person for a few days. These feelings stay for long and start interfering in the regular life of the person. The feeling can be mild or very serious and intense.
Depression is very common problem during and after pregnancy. But, it can be treated with a proper treatment.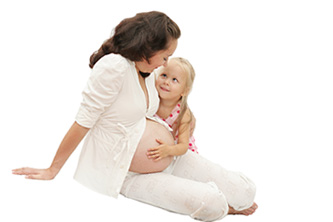 "Baby Blues", "Postpartum Depression" And "Postpartum Psychosis"
Baby blues are sinking feelings in a few days after the childbirth. The new mother experience mood swings, sadness, anxiety, trouble sleeping, loss of appetite, etc. These feelings vanish just in few days or weeks.
Postpartum depression is the type of depression that occurs after child birth. It occurs due to hormonal changes during pregnancy. It may occur anytime in the first year after delivery. The symptoms include:
The mother has thoughts of hurting the child or herself.
Showing no interest in the baby
.
This kind of depression requires treatment.
Postpartum psychosis is a rare condition. It occurs in 1 to 4 out of 1,000 births. It occurs in the first two weeks after delivery. The symptoms are:
Hallucinations
Confusion
Mood swings
Feeling of hurting the child or yourself
Causes Of Depression
Depression during and after pregnancy can be due to the following factors:
A history of depression can cause depression during and after pregnancy.
Hormonal changes also cause depression.
Traumatic or stressful events like death of someone very close, poverty, abuse, etc. may lead to depression during and after pregnancy.
Symptoms
The common symptoms are:
Mood swings
Crying a lot
Feeling restless
No motivation
No energy
Eating too much or too little
Sleeping too much or too little
Persistent feeling of grief and sadness
Feeling hopeless and overwhelmed
Having problems in focusing
Having problems in decision making
Feeling guilty
Feeling worthless
Withdrawal from family and friends
No interest in things that you once loved and enjoyed
Complaining about aches and pain.
Headache and stomach problems.
A little worry and anxiety is normal but, if you have these symptoms for more than 2 weeks, it is an alarming sign. You must consult your doctor.
Treatment
Anti depressant medicines are prescribed to the mother.
Talk therapy involving a conversation with the psychologist, therapist or with the social workers also help at large.
Tips That Help To Cure Depression
Talk to your partner, friends and family. Discuss your issues.
Take a lot of rest.
Sleep when your baby is asleep.
Mingle with your friends and family.
Spend some quality time with your partner.
Discuss the experience of your mother or mother- in- law.
Be a part of a support group.