Anxiety in men
Anxiety is a very normal human response which is experienced by all at different times. Most feel anxious or nervous when challenged by a problem, before taking an exam or before making any important decision. At times, this condition causes such distress that it somehow results in hampering a person's normal well-being.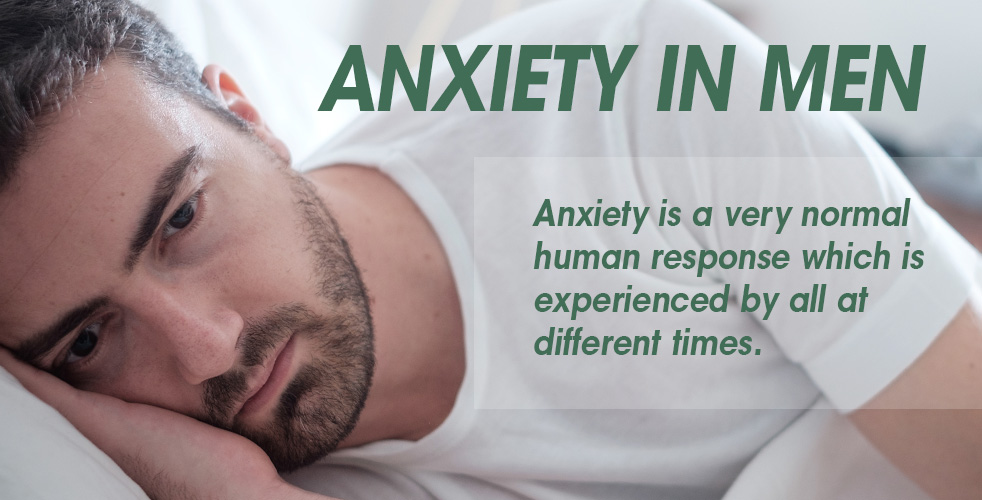 Any type of anxiety disorder is a serious issue and must be dealt with, properly. Constant fear and feelings of worry are followed by anxiety. Anxiety disorders are more common in women than men, though anxiety in men originates from various factors.
The most commonly recognized types of anxiety disorders are:
Panic disorder: In this, people encounter feelings of terror which strikes suddenly without any prior warning. The symptom for this includes chest pain, feeling of a heart attack, sweating etc.
Generalized anxiety disorder: In this, the person experiences excessive and unrealistic worry about simple things, which wouldn't provoke anxiety in normal scenarios.
Specific Phobias:This involves intense fear of specific objects, beings or situations; like heights, closed rooms, clowns, dolls snakes etc. The amount of fear in this case is unrealistic in comparison to the stimulus.
Social anxiety disorder: Also known as social phobia, here, the person experiences an overwhelming amount of worry in regular social situations. The worry mostly rotates around the fear of being judged or acting in a way which can lead to embarrassment.
Symptoms
The symptoms of anxiety among males depend mostly on the type of anxiety disorder, but the general symptoms include:
Sleeping problems
Heart palpitations
Dry mouth
Nausea
Dizziness
Muscle tension
Inability to calm down or stand still
Numbness
Feelings of fear, panic and uneasiness
Cold and sweaty hands
Shortness of breath
Tightening of the chest
Increase in heart rate
Obsessive thinking followed by compulsive behaviour
Causes
The causes that lead to anxiety disorders in men are as follows:
Family history of any similar mental health problems
Stressful events in life (such as job stress, family and relationship problems, trauma, death or loss of a loved one)
Physical health abnormalities (like diabetes, heart diseases, asthma or hormonal problems)
Any type of substance abuse (long-term or heavy usage of substances like cannabis, sedatives, alcohol etc.)
Personality factors (the combination of traits in a person)
Diagnosis
When suspected with symptoms of anxiety, the doctor will begin by filling up details about the medical history and byperforming some physical examinations. Although there might not be any lab tests available to diagnose anxiety, the doctor may still look into any kind of physical ailment that can be a cause of anxiety.
Without the presence of any physical illness, the patient is referred to a psychologist or a psychiatrist to find the source of anxiety, where the patient is evaluated using specially designed interviews and assessment tools.
Treatment
The exact treatment method would depend on the type of disorder, though few combinations of therapies greatly deal with most of the anxieties:
Changes in diet and lifestyle
Cognitive-behavioural therapy (focuseson recognizing and changing thought patterns and associated behaviours)
Relaxation therapy
Psychotherapy
Medication (like anxiety-reducing drugs and anti-depressants)
Prevention
Though anxiety cannot be completely prevented, it can be controlled to minimize the symptoms. It includes:
Reducing the consumption of caffeine.
Consulting a doctor before consuming any over-the-counter medicines as they might result in increasing anxiety symptoms
Seeking professional help from counsellors or psychologists.