Antidepressant Paxil
Paxil is a SSRI (Selective Serotonin Reuptake Inhibitor) antidepressant. Paxil (paroxetine) is basically an antidepressant drug belonging to the SSRI group of drugs. Paxil is typically used for the treatment of depression, posttraumatic stress disorder, OCD, anxiety disorders and premenstrual dysphoric disorder.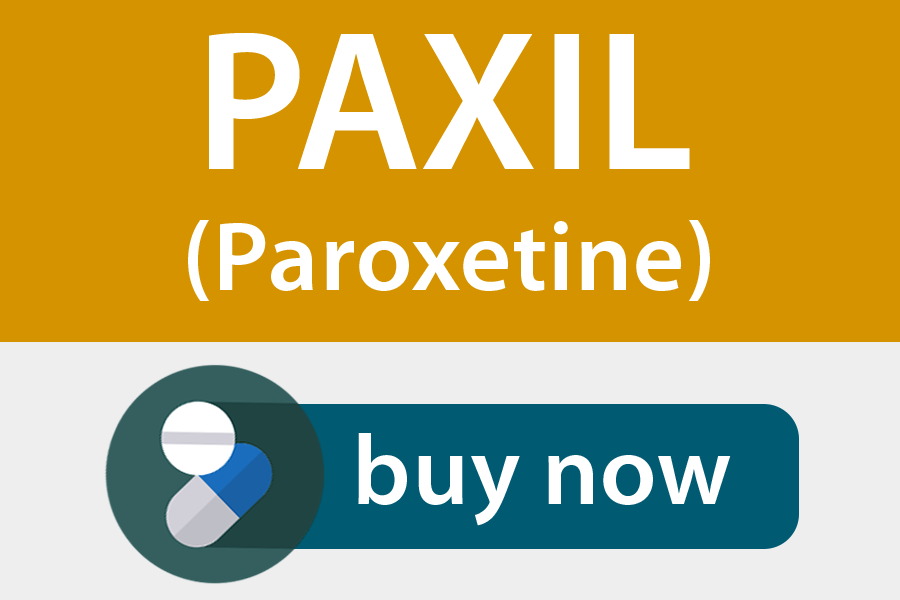 Composition of Paxil
Paxil which contains paroxetine hydrochloride as an active ingredient is a psychotropic drug having a molecular formula of C19H20FNO3•HCl•½H2O and molecular weight of 374.8. Typically Paroxetine hydrochloride is in the form of an odourless, off white coloured powder, having a solubility of 5.4 milligram/mL in water and melting point ranging from 120° to 138°C.
Paxil is available in the form of tablets and oral suspensions. Each film coated Paxil tablet contains paroxetine hydrochloride in strengths of 10 mg (yellow), 20 mg (pink), 30 mg (blue), 40 mg (green). The inactive ingredients in case of Paxil include dibasic calcium phosphate di-hydrate, polyethylene glycols,hypromellose, magnesium stearate, polysorbate 80, sodium starch glycolate,titanium dioxide, D& C Red Number 30 Aluminum Lake, D& C Yellow Number 10 Aluminum lake, FD& C Blue Number 2 aluminum lake, FD& C Yellow Number 6 aluminum lake.
The Paxil oral suspension is an orange flavoured, orange coloured liquid containing paroxetine hydrochloride of strength 10 mg. The inactive ingredients in case of Paxil include polacrilin potassium, propylene glycol, glycerin, microcrystalline cellulose, sorbitol, methylparaben, propylparaben, sodium saccharin, flavorings, sodium citrate dihydrate, FD&C Yellow number 6 aluminum lake, citric acid anhydrous and simethicone emulsion, USP.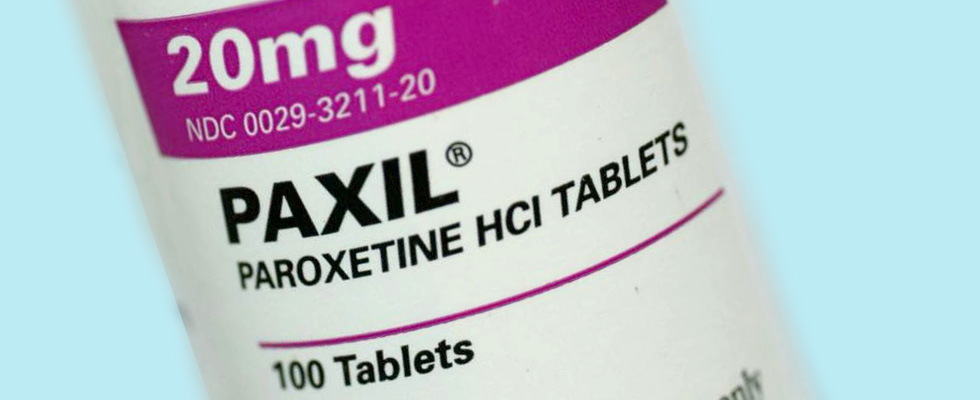 Drug Uses
Paxil (Paroxetine) is used for the treatment of depression, anxiety disorders, panic attacks and severe form of a premenstrual syndrome (known as premenstrual dysphoric disorder). Paxil typically works by helping the body restore the equilibrium of certain natural substances like serotonin in the brain. Paroxetine is an SSRI due to which the mood, sleep, appetite & energy levels might be improved, due to which the interest in daily living gets restored. It may also reduce the fear, anxiety or unwanted thoughts in case of the patient, thereby reducing the panic attacks. Paroxetine may also lessen the premenstrual symptoms like irritability, depression or increased appetite.
This medication can also be used in the treatment of mental/mood disorders like (OCDs) obsessive compulsive disorder or post-traumatic stress disorder in case of one. It may also be considered for the treatment of hot flashes in case of women going through menopause.
Paxil is used to treat depression and anxiety. Paxil maintains correct levels of the chemical, serotonin, in the brain. It is also prescribed to treat Obsessive Compulsive Disorder (OCD), panic disorder, post-traumatic stress disorder and social anxiety disorder.
How Taken
Paxil comes in tablet form to be taken orally. The usual dosage is one tablet daily. Paxil does not have to be taken with food. It may take a couple of weeks of regular dosage before the patient reports an improvement in their condition. Do not stop using Paxil without your doctor's permission, even if you feel better. Never increase or decrease the dosage without consulting your doctor. Patients who have been using Paxil for a long period of time may need the dosage to be gradually reduced before stopping completely. Paxil is only to be used by the patient for whom it was prescribed.
Missed Dose
If a dose is missed, it can be taken as soon as you remember, as long as it does not clash with the next scheduled dose. In this case, rather skip the missed dose. Never take a double dose.
Side Effects of Paxil
In case of Paxil, the following are the severe side effects which one might experience after consumption of the medication:
Hives
Behavioral changes
anxiety or panic attacks
Trouble in sleeping
The feeling of impulsiveness
Irritation
Feeling of restlessness
Feeling of being more depressed
blurred vision or tunnel vision
Pain in the eye
Seeing halos around the lights
easy bruising
Chest tightness
Trouble breathing
Seizure (convulsions)
Stiff (rigid) muscles development
Sweating or confusion
Fast or uneven/rapid heartbeats
Tremors or feeling of passing out
In case of Paxil, the following are the common side effects which one might experience after consumption of the medication:
weight gain
increased appetite
headache, dizziness or drowsiness
Feeling of tiredness or restlessness
problems with memory or speech
tremors or shaking
numbness
changes in the personality
dry mouth, or increase in the salivation
stomach pain or constipation
pain in the arms or the legs
vision changes
nausea, vomiting or diarrhea
feeling of nervousness
sleep problems (insomnia)
Strange dreams
decreased sex drive
Impotence or some difficulty in having an orgasm
Contraindications of Paxil
One should not use Paxil if he/ she is:
allergic to paroxetine
takingpimozide or thioridazine
if one is being treated with the methylene blue injection
if one has been treated with an MAO inhibitor in last 14 days
Pregnancy and Paxil
Paxil is an SSRI antidepressant, which when taken during pregnancy might cause some serious lung problems and some other complications in case of the baby. However if this medication is discontinued, it may cause one to experience a relapse of depression. Hence one should not stop taking this medicine in case of pregnancy, but rather consult a doctor. This medication might pass into breast milk causing harm to the baby being nursed.
More Information
In the early stages of dosage be cautious when driving, operating machinery or doing any potentially dangerous activity in case you have an adverse reaction to Paxil. The simultaneous use of alcohol with Paxil can cause dizziness and drowsiness.
Warnings/Precautions
Before taking Paxil, ensure that the doctor has a full knowledge of your medical history, including possible allergic reactions to any component of Paxil. Patients who have the following conditions may not be able to use Paxil: liver or kidney disease, seizures, mania or suicidal tendencies. In these cases, your doctor may prescribe a lower dosage. Studies on animals revealed that Paxil had adverse effects on a fetus. Paxil is excreted in breast milk so do not breastfeed while taking Paxil. If a woman falls pregnant while using Paxil, a doctor must immediately be consulted.
Active ingredient: Paroxetine
Trade brand and generic names of Paroxetine: Afenexil, Allenopar, Aparo, Apo-Paroxetine, Aropax, Aropax CR, Aroxat, Aroxat CR, Bectam, Casbol, Cebrilin, Chem Mart Paroxetine, CO Paroxetine, Datevan, Denerval, Deroxat, Eutimil, Extine, Frosinor, Gen-Paroxetine, GenRx Paroxetine, Jamp-Paroxetine, Meplar, Motivan, Mylan-Paroxetine, Optipar, Oxepar, Oxet, Oxetine, Paluxetil, Panex, Paradise XR, Paratonina, Parexat, Pari, Parocetan, Paroksetiini, ParoLich, Paronex, Paroser, Parotin, Parotur, Parox, Paroxat, Paroxedura, Paroxetine-DP, Paroxiflex, Pavas, Paxetil, Paxidep, Paxil, Paxil CR, Paxtine, Paxxet, Pondera, Posivyl, Psicoasten, Ratio-Paroxetine, Rexetin, Rhoxal-Paroxetine, Riva-Paroxetine, Roxatine, Sandoz Paroxetine, Serestill, Seretran, Sereupin, Serodur, Seroxat, Seroxat CR, Tagonis, Teva-Paroxetine, Tiarix, Traviata, Traviata XR, Xalexa, Xerenex, Xet, Xetin, Xilanic, Zym-Paroxetine.